High-Tech Comprehensive
Implant Dentistry
A dental implant is a titanium post that is inserted into your jaw as a replacement tooth root. It can support a dental crown, a bridge or a denture. Dental implants are the most durable, most lifelike and longest-lasting replacement option for missing teeth, making them the modern gold standard of tooth replacement.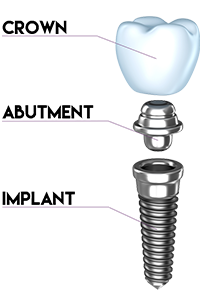 Dr. Malin is a professional in dental implant treatment, with more than 23 years of experience in the field. He provides premium-quality, full-service implant dentistry using state-of-the-art technology and minimally invasive procedures.
Dr. Malin can provide any dental implant treatment you might need in-house. And even though he provides the highest quality services, he keeps his treatment affordable in order to give as many people as possible the opportunity to receive the benefits dental implants have to offer.

World-Renowned
Implant Dentist
Dr. Malin is a world-renowned and highly respected leader in implant dentistry. He started placing implants in 1993 after extensive training and spent many more years in postgraduate study, research and application to become a professional in all aspects of dental implant treatment. He has pioneered several advancements in dental implant procedures, which have led to four U.S. patents.
Dr. Malin is a sought-after instructor in dental implant procedures and has been recognized as a leader in continuing education in Dentistry Today magazine. He lectures on implant treatment at continuing education seminars across the United States and abroad. He is also the director of the implant training program at the prestigious Las Vegas Institute for Advanced Dental Studies, where he teaches eight courses per year. Dr. Malin is also the senior director of an advanced dental implant surgical training institute in the Dominican Republic.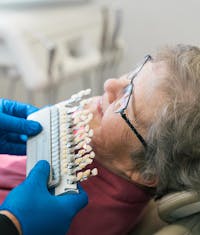 Top-Quality Implants
Dr. Malin owns a dental implant design and manufacturing company that makes the premium implant posts he uses for his patients. The implants he creates have a superior ability to maintain the bone and gum tissue levels around the implant over time.
This is due to the fact that the implant and the connecting abutment (the attachment which holds the dental restoration) fit together so closely that it is nearly impossible for bacteria to enter into the space between the two pieces.
This virtually eliminates bacterial infection getting into the implant and causing bone and gum shrinkage. These implants can also be placed farther below the gumline than other brands. This allows your dental restoration to appear as if it emerges naturally from your gums.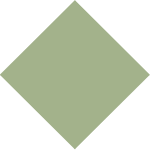 Free New Patient
Exam & Consultation
Take advantage of our New Patient Special offer and come see Dr. Malin for a free exam and consultation. You can learn more about dental implants and how they can benefit you. Your visit will include the following:
Full oral examination
Needed X-rays
Perio probing
Discuss your goals with Dr. Malin
Learn about your treatment options
Get all your questions answered
Treatment plan options with estimated costs
Our Dental Implant Services
Dr. Malin provides the entire range of dental implant treatment options in-house. He is able to perform all types of implant placement, and he designs and places the top-quality dental restorations that fit onto the implants, making our office a start-to-finish solution for all your tooth replacement needs.
Dr. Malin uses zirconia—an extremely durable and lifelike ceramic—for the crowns, bridges and full-arch new teeth your implants will support. He place additional layers of more translucent porcelain over the zirconia as needed for optimum aesthetics. Below are the different implant options we provide to replace one, several or all of your teeth.
We will help you get
the treatment you need
We keep our rates affordable and offer many payment options to make payment as easy and convenient as possible. We also have financing available, and will work with your insurance to help you receive the best possible reimbursement for your procedure.
Our Dental Implant Procedure
Dental implant placement is a very delicate and precise procedure that involves detailed diagnostics, meticulous planning and careful execution. Dr. Malin uses the latest in advanced technology to make your dental implant treatment efficient, minimally invasive and comfortable.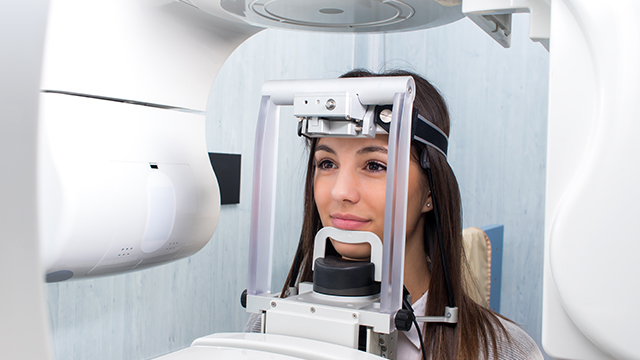 3D imaging for accurate diagnostics
Dr. Malin's detailed diagnostics include digital X-rays and a 3D CT scan. Our CT scanner will take a series of X-rays in a full circle around your head and processes them into crisp 3D 360-degree views of your teeth, jawbone and surrounding anatomical structures.
These 3D images can be viewed from any angle and magnified as desired. Dr. Malin will use this data to perform detailed and precise treatment planning.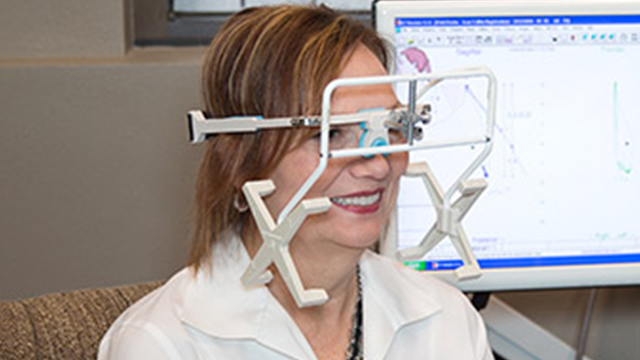 Jaw and bite evaluation
Dr. Malin analyzes jaw function, bite alignment and muscle tension using an advanced computerized diagnostic tool known as the K7 Evaluation System. This analysis accurately locates any jaw or bite misalignments and any related muscle pain.
The information obtained is used to ensure your treatment plan will correct any bite misalignment found. This will eliminate muscle pain associated with bad alignment and make your overall treatment results stable and comfortable.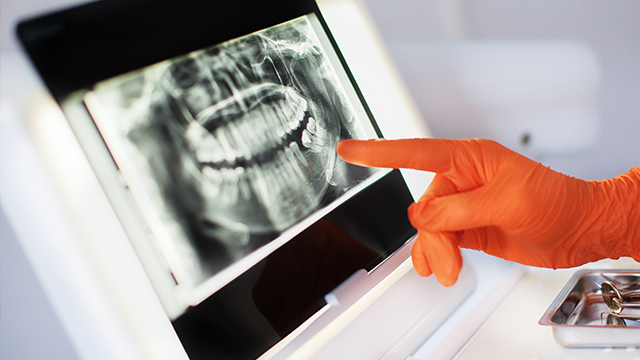 Computer-guided treatment planning
Dr. Malin feeds the CT scan images into special 3D implant planning software which he uses to precisely map out the placement position, angle and depth of insertion for each implant.
He simultaneously plans any bone grafting needed to provide the support necessary for your implants.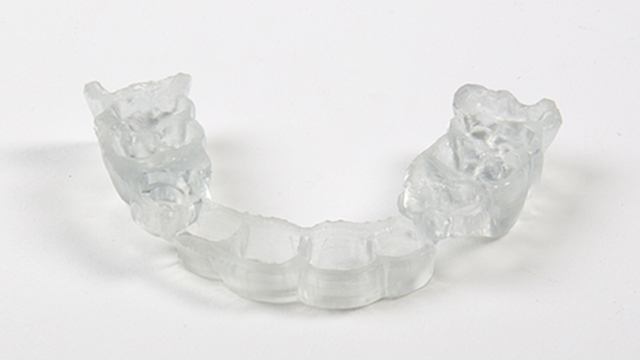 Surgical guides guarantee
accuracy of placement
Dr. Malin manufactures a state-of-the-art surgical guide to assist him in placing your implants. A surgical guide fits over your dental arch and shows exactly where and at what angle your implants are to be inserted. Use of the guide makes implant placement accurate, efficient and minimally invasive.
Professional bone grafting to
rebuild needed bone support
Where there is inadequate bone to support an implant, Dr. Malin places graft material to stimulate growth of new bone. He uses high-tech procedures and advanced materials for effective and minimally invasive bone regeneration.
Nontraumatic extractions
When extractions are needed, Dr. Malin gently removes teeth so as to preserve the maximum amount of surrounding gum tissue and bone. This minimizes swelling, speeds healing time and often reduces the amount of bone grafting needed.
Temporary restorations the same day
After an implant is placed, it needs to heal before Dr. Malin can give you a dental restoration that will allow you to bite and chew normally. However, if your implant is in a visible area, Dr. Malin will fabricate and place a temporary cosmetic restoration that will preserve the appearance of your smile while putting no pressure on the implant as it heals. Placing a functional restoration too soon can put too much stress on the implant and compromise its stability.
Follow-up visits to monitor healing
Dr. Malin will see you in a follow-up visit two weeks after your surgery to monitor the healing of your implants. He will take digital X-rays to verify when they have fully healed, after which he will start making your final restorations.
Digital impression scanner
for well-fitting final restorations
Dr. Malin uses an advanced digital impression scanner to take 3D impressions of your teeth for the fabrication of your final restorations. The scan images are much more accurate than traditional, goopy impressions. They enable Dr. Malin to make final restorations that fit precisely, look totally natural and need little to no adjustment once placed.
Top-quality, beautiful new teeth
Your crowns, bridges and full-arch fixed-in new teeth will be made out of zirconia ceramic, an ultra-strong and lifelike porcelain material that is among the latest advances in dentistry. Dr. Malin will place your final restorations and make any adjustments needed so you are totally happy with their look and fit. Your new teeth will look totally natural and aesthetic and align perfectly with your bite.
Who Are Candidates
for Dental Implants?
In the past, heavy bone loss in the jaw prevented many patients from being able to receive dental implants. Due to recent advances in technology, most patients can now receive them. Even patients with health problems, that formerly made implant treatment too risky, are now candidates. This includes patients with cardiovascular disease, diabetes or who smoke heavily.
There are no age limits on who can receive dental implants. The only exception is young people whose jaws have not yet fully developed.
Dr. Malin can verify your eligibility during a comprehensive examination and evaluation.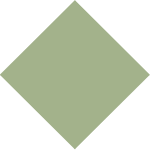 Come and See Us
for a Personal Consultation
Take advantage of our new patient special offer and come see Dr. Malin for a Free New Patient Exam and Consultation. You will meet with the doctor and learn more about our dental implant options and how they can benefit you.